Nelson Mandela given freedom of borough of Brent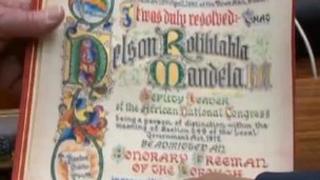 Former South African President Nelson Mandela has been awarded the freedom of Brent in north London, 23 years after a campaign was first started.
Brent Council conferred the freedom of the borough on Mr Mandela after a "unanimous vote" by its councillors, according to its Twitter feed.
The honour was first proposed in 1990, but not agreed by councillors.
Mr Mandela, 94, is currently in a "critical condition" in hospital in Pretoria, South Africa.
The former president visited the borough in 1962 and again in 1990 for a concert at Wembley Stadium organised by the Anti-Apartheid Movement (AAM).
Suresh Kamath, who was involved in the AAM and introduced Mandela at Wembley said: "Across the world people have recognised the importance of Nelson Mandela, the contribution that he's made to transform the society of South Africa, but also this contribution he's made to help Africa and the rest of the world.
"I'm really pleased and proud that the borough I live in is prepared to bestow this honour on Nelson Mandela."
Councillor Jim Moher added: "The spirit that he embodies for our communities lives on just as Martin Luther King, Abraham Lincoln, Mahatma Ghandi, [and] all those figures."