Wilton's Music Hall safeguarded after grant awarded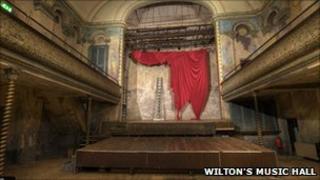 The preservation of London's last surviving grand music hall has been secured thanks to a grant of £1.85m.
The Heritage Lottery Fund (HLF) gave Wilton Music Hall the money to secure five Georgian town houses which make up the front of Grade II listed building.
The project will see 40% of the building, which is currently out of bounds, open in 2015.
The building, close to Tower Bridge, was opened in the 1850s and was on the at-risk register.
Frances Mayhew, Wilton's managing director, said: "This decision means that we can finally take the permanent steps needed to stop this much-loved building from falling down."
The building was part of the first generation of public house music halls opened in London in the 1850s by entrepreneur John Wilton.
It played host to stars such as Champagne Charlie, who played a key role in the 1889 Dockers Strike which resulted in the formation of the UK's first trade union, and also acted as an evacuation centre during the two world wars.
In 2007 it was listed by the World Monuments Fund as one of 100 locations of cultural importance which were under threat.