Rough sleeping in London increases by 13%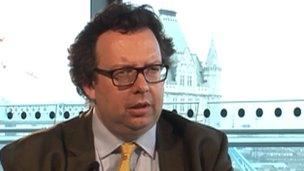 The number of people sleeping rough on London's streets has increased by 13% in a year, according to figures from a homelessness charity.
He pledged to eradicate rough sleeping in the capital by the end of 2012.
The mayor's housing spokesman said the length of time people stayed on the street had been significantly cut.
The figures produced by Chain - a homelessness database - showed 6,437 were sleeping rough in 2012 compared with 5,678 the previous year.
But the increase was lower than the 43% rise in rough sleepers seen between 2010-11 and 2011-12.
The number of rough sleepers in the capital has steadily increased from 3,472 in 2008, when the current mayor came into power.
Westminster has the highest number of rough sleepers (2,442), followed by Lambeth, Camden, Southwark, Tower Hamlets and City of London, new figures show.
Leslie Morphy, chief executive of homeless charity Crisis, said: "The mayor of London pledged to eliminate rough sleeping in the capital by 2012.
"Instead we see today the number of people sleeping on London's streets - in absolute destitution in one of the world's richest cities - has more than doubled on Boris's watch."
Tom Copley, Labour's City Hall housing spokesman called the figures "appalling".
He said: "Boris Johnson made a very bold pledge in 2008 to end rough sleeping by the end of 2012. He reiterated that last year.
"Not only has he failed to hit the target but rough sleeping has increased every year that he's been mayor."
He blamed the situation on housing and economic crises and the government's welfare reforms.
Richard Blakeway, the mayor's housing adviser, said: "We've always said people shouldn't spend a second night sleeping rough, getting entrenched on the street.
"What we've done is to work with the voluntary sector to make sure there's a significant reduction in the length of time people stay on the street.
"Now eight out of 10 new rough-sleepers only spend 24 hours on the street. That's completely different to what we had before."
He said there had been a "significant increase" in the number of foreign nationals sleeping on the street, mainly from central and eastern Europe, and said there was a range of work aimed at targeting the problem.
Related Internet Links
The BBC is not responsible for the content of external sites.