Duke of Cambridge statue fixed after naked man's damage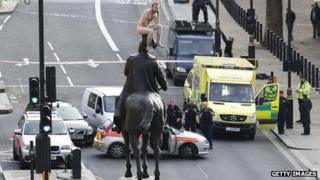 The Duke of Cambridge's steed stands foundering with a set of wooden planks at its knees.
Prince George should be holding a Field Marshall's baton but it was snapped off by a naked man last November.
While his sword is bolted back into his left hand he wears the same irrepressible expression he had when Dan Motrescu sat on his head.
Soon repairs will put this chapter of the bronze commander's 107-year history behind him.
'Badly bent'
On 23 November, Motrescu, 29, climbed up the Whitehall statue of the former Commander-in-Chief of the British Army with a screwdriver in his underwear.
He took off his clothes, broke pieces off the sculpture, including the sword which he waved about his head, and stayed up there for about three hours while police officers tried to talk him down.
He caused £5,000 worth of damage.
Erecting scaffolding around the granite plinth for work to start on Monday has brought the total cost to £10,000, said Reuben Briggs of English Heritage, which manages the statue.
Court records said the incident was "aggravated by alcohol/drug addiction".
"I've never seen anything like this carried out on a bronze before," said Mr Briggs.
Sculpture conservator Simon Cottle agreed: "It is quite a rare incident if you consider how many sculptures there are in London. It's not often they get vandalised in this way.
"Swords don't usually get stolen off horses, especially by naked people."
Listing the damage to Prince George - who was the last person to hold the Duke of Cambridge title before Prince William - Mr Cottle said: "His sword had been removed and badly bent.
"The baton in his right hand had also been removed. Some of the reins had been broken off and some of the chains from around the horse's face were also removed and in pieces."
In the next few days, work will take place about 20ft up to screw and solder many of the bits which ended up on the ground back into place.
Mr Briggs collected them from Charing Cross police station the day after the incident.
He said: "The police picked the pieces up off the road. The baton, the sword, bridlery and reins were all encased in police evidence boxes. "
In December, Mr Motrescu, a Ukrainian, who Westminster Magistrates' Court was told was "of no fixed abode", was convicted.
He was ordered to spend 12 weeks in prison for possession of an offensive weapon in a public place, causing criminal damage and breaking the Public Order Act.
Mr Potrescu's solicitor John Howey said he did not know if he had now returned to Ukraine.
The scaffolding around the statue should be taken down on Sunday and the Crimean War veteran will return to his former glory.
"No original details have been lost," said Mr Cottle.
"And once we restore it, you won't be able to tell."