Clocks run an hour fast at Waterloo station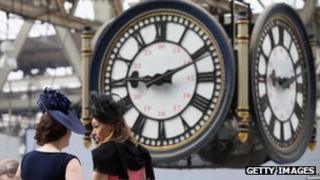 Train passengers have been advised to take care when reading the time at a London station after it was found some clocks are running fast.
South West Trains tweeted that clocks at Waterloo station had been spotted running one hour and four minutes ahead of time.
It said engineers were investigating the problem.
Both London Underground tube and National Rail services run from the station.
South West Trains said a "number" of clocks had been affected as the service was run on an automated system.
A spokeswoman added: "From what I understand it's a technical issue and we are looking into it. It's very unusual."
She said the customer information screens were not affected.