Ancestors traced within clicks after years of searching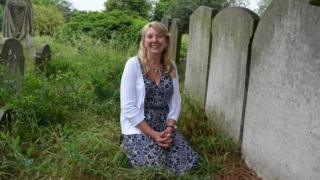 The names of 205,000 people once restricted to overgrown graveyards and dusty archives have been liberated for the world to see.
Brompton Cemetery in West Brompton, west London, is the first of the "Magnificent Seven" London cemeteries constructed during the 1830s and 1840s to put all its burial registers online.
It means Janet Ellis has found a family grave she did not know was there.
She also discovered a 13-month-old relative, for whom no records existed.
Alfred John was born in 1852 and died in 1853. He was Mrs Ellis's great-uncle twice removed.
She did not know about him because he died before he could be included in a census.
'Absolutely elated'
Within minutes of finding out that Deceased Online had published Brompton Cemetery's records, Mrs Ellis, a keen amateur family historian, had found her relatives.
She said: "I was absolutely elated to find they'd cropped up having searched every single parish in the archives for the last seven years. I was jumping around the house.
"I could have been searching for another 10 years."
Prior to records being digitised, UK researchers faced the challenge of approaching up to 3,000 burial authorities and nearly 250 crematoria, each independently holding their own registers.
But in the same week that Brompton Cemetery marks the 173rd anniversary of its first burial, anyone can now find out online whether their relatives are interred there and the location of the grave.
Mrs Ellis had her first sight of her family grave on Thursday.
She said: "I've never visited a grave before. It's a weird sense of belonging. It is emotional even though it happened a long, long time ago."
Asked why she is so fascinated by tracking down her ancestors she said: "It gives you pride in how your families were.
"It makes sense of the family that I do know. It makes sense of where I've inherited certain traits from and connects me with social history."
Else Churchill, of the Society of Genealogists, has welcomed so much information being made available for people worldwide.
"Prior to this, you would have to plough through a vast number of registers armed with a precise idea of when your ancestor was buried. It could be a real challenge," she said.
"It's the first of the really big municipal cemeteries built after the 1840s to come online."
The 900,000 burial records of St Pancras Cemetery are also available on the internet but Brompton's are the first of the "Magnificent Seven" - seven cemeteries so called because they were built following 1832 legislation to alleviate overcrowding in parish burial grounds.
'Dark basement'
Richard Gray, of Deceased Online, hopes the other six cemeteries, Abney Park, Highgate, Kensal Green, Nunhead, Tower Hamlets and West Norwood, will follow.
He said: "There are often gaps in birth, marriage and death registers and census records. Burial records are a good extra resource."
"The records when someone dies are ironically often the fullest," said Nick Barratt from The National Archives.
"Obituaries, memorial cards and wills all allow us to resurrect people."
Mr Gray's nephew Izaak had the task of scanning each of the 141 registers for Brompton's 40 acres of graves.
"It took six weeks of working four days a week in the quite dark basement of the National Archives, looking over page by page," he said.
Coincidentally, the Grays found two relatives of their own buried close to Mrs Ellis's.
"Burial and cremation records are often the ancestral missing link," said Mr Gray.