CCTV of Canning Town sexual offences suspect released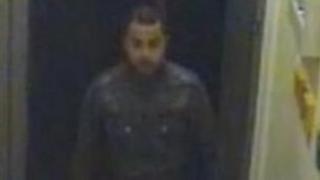 CCTV images of a man wanted for five sex assaults in east London have been released by police.
The Metropolitan Police said they believed the man was "responsible for five linked sexual assaults in the Canning Town area" dating back to 2011.
In each assault a man followed the women into apartment blocks in Seagull Lane and Western Gateway.
He is described as Asian, with short black hair and stubble. Anyone with information is urged to contact police.
'Tailgate' victims
The most recent assault happened at 23:30 BST on 12 June when a 25-year-old woman returned to Balearic Apartments in Western Gateway, the Met said.
A man followed her through the building doorway and as she waited for a lift he grabbed and sexually assaulted her before leaving. He was wearing a dark zip-up coat and burgundy trousers.
Previously the suspect followed and sexually assaulted three women in apartment blocks in Seagull Lane on the evenings of 22 June 2011, 9 November 2012 and 2 May 2013.
A 22-year-old woman was also assaulted as she returned to her Western Gateway apartment on 14 October 2011.
CCTV from that date shows the woman entering the building and a man "tailgate" her into the lift.
When the woman questioned him he said he was visiting friends before staring at her and sexually assaulting her. The suspect told the woman he would kill her if she told anyone.
When the lift doors opened the victim ran out but she was chased and sexually assaulted for a second time.
On most occasions the suspect ran off in the direction of the Royal Victoria Dock DLR station.
Det Con Tina Dilworth said: "The man responsible for these assaults must be stopped before he goes on to commit another offence.
"His offences started back in 2011, I'd ask people to think if they know someone who travels and may have been out of the country during the gaps between these offences."