Waterloo tower block 'threatens view of Westminster'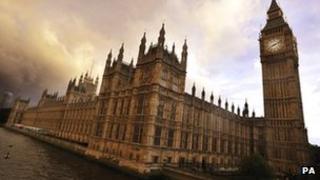 A judicial review is being sought over plans for a tower block that critics say will harm views of Parliament and Westminster Abbey.
Westminster City Council and English Heritage wants the government to review plans for the 29-storey residential cum office block.
The Elizabeth House development is planned for land near Waterloo railway station.
The plan was passed by Lambeth Council last November.
Westminster Council and English Heritage said they had objected to the redevelopment of Elizabeth House and had written to the Secretary of State for Communities and Local Government in January asking for a public inquiry.
But the government department refused the call in request in March on the grounds that the plans did not give rise to substantial cross-border controversy, have significant effects beyond the immediate locality or raise significant architectural and urban design issues, English Heritage said.
'Unique vista'
Unesco, the UN's cultural agency has in the past raised concerns about the "visual setting" of World Heritage sites of the Tower of London, the Palace of Westminster and the Abbey, and warned they could be placed on the UN's Heritage in Danger list.
Councillor Robert Davis, deputy leader of Westminster City Council, said: "We would not challenge the government unless we thought this was a major issue, we have to act now or face losing the unique vista of one of Britain's most important historical sites which is photographed by millions of visitors every year."
A statement from English Heritage said the redevelopment was "acceptable in principle and could make a contribution to the area".
But it added: "However, this is a particularly sensitive site that sits within the backdrop view of the Palace of Westminster, the Royal Festival Hall and County Hall.
"These are among the most significant historic and cultural assets of the capital and essential elements in its identity and character as a world city."
A spokesman for the Department for Communities and Local Government said: "The decision not to call-in the application and not take the decision away from the council was made after a careful consideration of all the issues and representations."