Mark Duggan death: Application for police collusion review rejected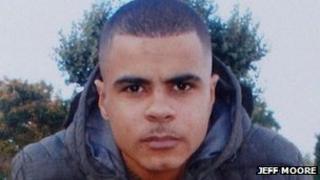 The family of a man whose death by police sparked riots in London have had an application for a judicial review into police protocol rejected.
Mark Duggan was shot in 2011 and his mother called for a review into procedures designed to prevent officers collaborating on incident reports.
Hugh Southey QC said the current measures were insufficient.
At the High Court, Lord Justice Laws said it was not appropriate for the court to prescribe such rules.
Incident conferring
Mr Southey told the court that the Association of Chief Police Officers (ACPO) did not currently have appropriate measures to reduce the risk of officer collaboration and they should be isolated before producing their accounts of fatal shootings.
He said 11 firearms officers who attended the scene of Mr Duggan's shooting in Tottenham had conferred both before and during the period when they wrote their accounts of what happened.
He added that the Independent Police Complaints Commission also believed the guidelines were inadequate but was powerless to change them.
An inquest into Mr Duggan's death is due to begin in September.