Heathrow expansion 'cheaper and quicker than new airport'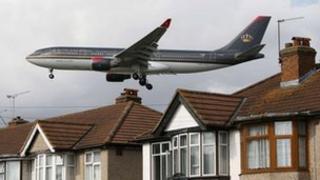 Creating a third runway at Heathrow Airport would be "cheaper, quicker and better for the economy" than building a new airport, Heathrow bosses claim.
In a new report, it claims adding capacity there would be better for jobs and passengers than a new hub at Stansted or in the Thames Estuary.
But London Mayor Boris Johnson backs a Thames Estuary airport, calling the third runway idea a "giant step back".
The report is part of Heathrow's submission to the Aviation Commission.
Under the stewardship of former CBI chief Sir Howard Davies, the commission is charged with examining airport capacity in the south east.
It is expected to publish an interim report by the end of the year and its final report is due in the summer of 2015.
Heathrow chief executive Colin Matthews said expansion would "put Britain ahead in the global race, connecting UK business to growth more quickly and at less cost to the taxpayer than any other option for new capacity".
Heathrow was "better located for passengers, business and jobs", he said and it could be expanded up to seven years quicker than creating an entirely new hub.
"Why build from scratch at a new hub when we can build on the strength that already exists around Heathrow today?" Sir Colin added.