When an honour from the Queen is delayed in the post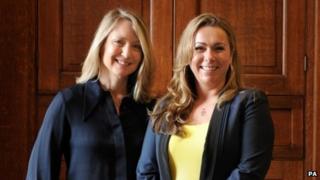 For five long weeks those recognised in the Queen's Birthday Honours list have officially had to keep schtum.
But keeping the news secret becomes much harder if you and your partner run the same business and only one of you gets the nod.
For the two London founders of online retailer notonthehighstreet.com that is exactly what happened.
Holly Tucker and Sophie Cornish have built up their business together over seven years, starting at the kitchen table, but now they deal with more than 3,500 individual partners who sell items through their site.
Ms Tucker said: "My business partner Sophie received her letter of notification and she couldn't tell me.
Cyptic messages
"But she kept leaving me messages and writing cryptic texts asking if I had received anything in the post.
"My postman has never been so popular as I waited to see if there was anything for me, and then it took 48 hours to come, but he was pretty happy when it did arrive because he got a really big hug."
Having breathed a sigh of relief at being included in the 'MBE club' Ms Tucker said she felt "super excited".
"We've been representing these 3,500 business for so long and to get this award puts them on the map, it's a hidden army, and I'm proud for all of us."
Building up the company, which is becoming more mainstream with digital adverts on the London Underground, has taken a lot of hard work and dedication.
"Sheer British grit has been required", Ms Tucker said.
"When we started we had four members of staff, that's now up to 130 and we've seen relentless growth.
"By the end of this year we would have pumped £200m into this hidden army of people, so it's been a pretty amazing ride and I'm excited to continue, I almost feel like I haven't started."
For a lot of people receiving honours, success comes as a surprise, but the duo had always hoped for such an outcome.
'Magical busineses'
"I'm a true entrepreneur and I'm super optimistic so I knew that this would happen, but I was relentless in making sure it did - when we couldn't afford the heating back in 2006, I spent money on URLS around the world so I really did visualise years in advance.
"It's taken everything to make it happen but we've been able to support a group of people that are really British."
And now they want to take that British know-how abroad.
Ms Tucker said: "We're looking at international expansion and how we export our British products around the world.
"And we're looking at new markets - food, travel, corporate experiences - the purpose is to uncover magical businesses and until Google can do that I'm going to do it."
Another point to consider when you are appointed MBE is how to tell people - do you secrete it away, mention it when the appropriate opportunity arises or tweet about it?
Ms Tucker said: "I've already written it everywhere. I'm not going to be shy in celebrating this because it really represents a journey we've gone on with all our partners."