Kingston council leader quits over child porn arrest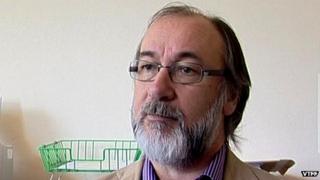 The leader of Kingston borough council has resigned after he was arrested on suspicion of possessing indecent images of children.
Derek Osbourne, 59, was arrested on Tuesday at his home in Kingston and taken to a south London police station. He has been bailed until August.
In a statement, acting leader Liz Green said the Liberal Democrats were "deeply shocked".
Mr Osbourne was first elected leader from 1997-98, and then again from 2003.
A spokesman for the council said: "Everyone connected with Kingston Council is shocked by this news and we will of course assist and support the police investigation in any way that we can."
Mr Osbourne has resigned from the Liberal Democrat group as leader and is expected to resign as a councillor later, said a spokesman.
His duties have included sitting on a committee for the creation of a joint children's services department between Kingston and Richmond upon Thames, called Achieving for Children.
Mr Osbourne was unavailable for comment.