Is the transport 2020 vision a pitch for funds?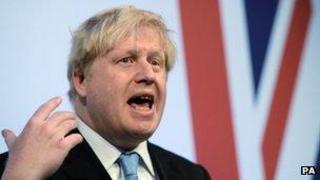 Boris Johnson's Vision 2020 for transport feels very much like a pitch document for funding.
The spending round looms and it looks like Transport for London (TfL) could face some big cuts.
The vision brings together what the mayor wants transport-wise until 2020.
Some of the ideas are a long way down the track anyway - such as Woolwich Crossrail Station.
Others are merely an idea the mayor supports, like the Thames Estuary airport.
Once again, the idea of a transport hub involving an airport and the DP World container port in the Estuary was outlined.
Huge costs
He also calls for the government to drop the idea of a third runway at Heathrow and for devolution of rail services.
Mr Johnson also wants 2,000 new buses for London by 2020 and a Hammersmith flyunder, possibly with tolled tunnels elsewhere.
An extension of the Bakerloo line is also on the list.
You won't find many in the capital criticising these ideas but the mayor's opponents say it is too little, too late plus, the costs would be huge and need a massive government contribution.
The big question is funding and, in the short-term, what happens if the government cuts the budget?
There were no answers to my questions on that from the mayor.
One bit of the report highlights the issues around funding, and the difficulties there are for making a case.
On the one hand TfL says investment is desperately needed and efficiencies must be driven through.
On the other it is introducing more staff, with the mayor saying he's willing to pay for them to make Londoners feel safer.
The mayor wants 2,000 new buses for London by 2020, that would cost about £200m more than if he bought off the shelf hybrids. He says it is worth it as they are greener.
But 2000 new buses would mean 2000 conductors and the cost of that per year could top £110m if you use previous estimates from the Greens on the Assembly.
So which part of the argument will be listened to?