Skateboarders rally against Southbank park relocation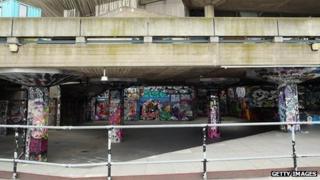 Skateboarders have gathered in central London to support a skate park that could be relocated.
The riders have called on Lambeth Council to reject a planning application to relocate The Undercroft.
The Save Southbank Skate Park's campaign believes the current location should be preserved as the home of British skateboarding since the 1970s.
Jude Kelly, from the Southbank Centre, said the plans would create a "range of new facilities".
Under the proposals, new arts, culture and retail facilities would be situated in The Undercroft, and the skate park would be moved to nearby Hungerford Bridge.
Henry Edward-Woods, from the Save Southbank Skate Park's campaign, told BBC London that skateboarders were not consulted about the proposals.
"They only consulted us after they were pushing the plans through," he said.
"The history that draws the kids to be around this space where they know so much has gone down... you can't recreate that."
Ms Kelly, the artistic director of the Southbank centre, said the development would allow more people in the community to access the centre.
"We're not changing the idea of the skateboarders, they are a fixture, they're part of our community," she said.
"We are just moving the room 100 yards away on the river front... we don't want them to go away."
Ms Kelly believes the centre needed to change in order to welcome more people, which meant "some compromising" was needed.
The Southbank Centre has submitted plans for a £120m redevelopment which would double the size of the arts centre and refurbish some of the buildings.