Concern over trafficked Romanian prostitutes in London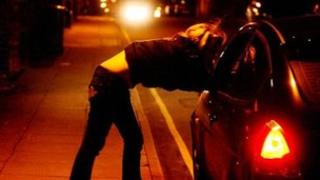 A charity has said it is concerned about the increased number of Romanian prostitutes working in London.
The study, by Eaves for Woman, said a significant proportion of prostitutes in the capital were from the eastern European country.
It was also claimed many were suspected trafficking victims and were controlled by organised criminals.
The report, which covered the captal's 33 boroughs, said London's sex trade was "thriving".
The charity said the prostitutes targeted hotel entrances in areas popular with tourists.
The charity said police operations targeting begging by Romanian nationals around Marble Arch had also identified an increase in prostitution around nearby Park Lane.
'Too severe to ignore'
The study was commissioned by the Mayor's Office for Policing and Crime and was based on the responses of 500 people,
A total of 2,077 potential victims of human trafficking were identified in 2011, the report said, with the most common countries of origin being Romania, Slovakia, Nigeria, Poland and the Czech Republic.
Eaves has called for an immediate investigation into whether the Romanian prostitutes had been trafficked.
Chief Executive Denise Marshall said: "No matter where you stand on prostitution, the levels of violence and abuse that women suffer, both entering and during prostitution, are too severe for us to ignore."
Stephen Greenhalgh, deputy mayor for policing and crime called it an "important study".