Tree disease 'threatening' City of London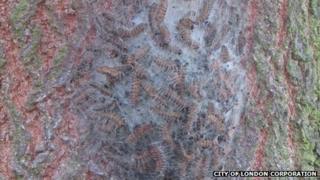 London's tree population could be "seriously damaged" unless a wider range of species is introduced.
A report by the City of London Corporation (CLC) said unless tree stock is diversified, susceptible trees would be attacked by disease.
The main diseases include Oak Processionary Moth and Massaria. Ash Dieback is due to reach London by 2014.
Mark Boleat, from the corporation, said: "A more proactive approach is needed to protect the tree population."
The report, Tree Diseases in London: The Economic, Social and Environmental Impact said the diseases were attacking London's green spaces which cover about 40% of London.
It said that more species needed to be introduced after research found that in the City of London there were 220 varieties of tree, but 45% were from just five species.
The report suggested the lack of diversity could increase the risk of new diseases and pests spreading, which could have a "catastrophic" effect on the overall tree population.
It also said it was essential that boroughs coordinated diversification.
Currently, trees are being attacked by fungal disease, Massaria and Oak Processionary Moth which can irritate human skin and cause a rash.
Although Ash Dieback is not in the capital yet it is expected to hit by the end of next year.
Mr Boleat said: "They [trees] bring a wide range of benefits to the capital so it is vital that we act now to tackle emerging threats.
"The City of London Corporation is committed to working with the Forestry Commission and other authorities to contain new diseases and pests."
The report added: "Picture London tomorrow, without its plane trees. The effect on the townscape would be dramatic - the loss would be sudden - the replacement not forthcoming for decades. The loss of benefits to human wellbeing would be drastic."
CLC manages about 11,000 acres of open space in London including Hampstead Heath, Epping Forest and Burnham Beeches.