Revamped Herne Hill Velodrome opens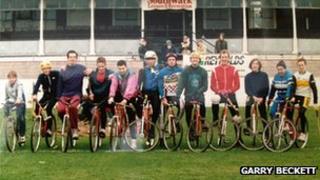 A new games area, junior cycling track and lighting system have opened at the velodrome in south London used during the 1948 Olympics.
The Herne Hill Velodrome was where Tour de France winner Sir Bradley Wiggins began his cycling career.
The changes were paid for using £400,000 from Southwark's £2m Olympic Legacy Fund.
New lighting means the 450m track can be lit for the first time in its 123-year history.
The state of the track had become so bad over the years that big events, including the traditional Good Friday Meeting, had to be shifted to other venues.
It is now hoped the improvements will see more people using the venue throughout the year.
A new pavilion is planned for completion before 2016 and will require a further £3m.
Hillary Peachey, Chair of the Herne Hill Velodrome Trust, said. "We desperately need new indoor facilities - a cafe, space for winter training, showers and toilets, changing rooms, none of which we have at the moment.
"The track itself is thriving and we want to inspire a greater range and ability of cyclist, from toddlers on balance bikes to disabled riders on hand bikes."