Jimmy Mubenga inquest: 'No signs of life' after G4S restraint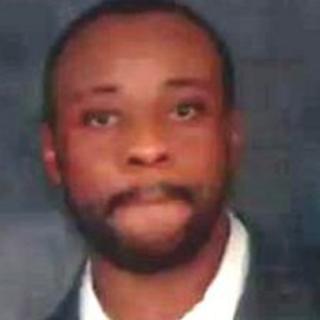 Paramedics found no signs of life when they arrived on a plane on the runway at Heathrow to treat a man being deported to Angola, an inquest heard.
Jimmy Mubenga, 46, died after becoming ill as the aircraft prepared to leave the airport in October 2010. He had been restrained by G4S security guards.
They have said he was breathing shortly before an ambulance arrived, Isleworth Crown Court has heard.
But a paramedic told the inquest Mr Mubenga had "no pulse" when he arrived.
London Ambulance Service worker Gareth Buer said Mr Mubenga was "unconscious" and "not breathing".
"We believed he'd had a cardiac arrest," he told the inquest at Isleworth Crown Court.
Mr Mubenga, an Angolan national, had been restrained by three G4S security guards, Terence Hughes, Stuart Tribelnig and Colin Kaler, who were escorting him from the UK, the inquest has heard.
He was being deported from the UK after serving a two-year prison sentence for assault occasioning actual bodily harm.
After the ambulance service arrived, CPR was administered to Mr Mubenga for about an hour before he was transferred from Heathrow to Hillingdon Hospital, in west London.
The Crown Prosecution Service (CPS) had previously decided bringing against any charges in relation to his death.