Cyclists ride into London for Help for Heroes charity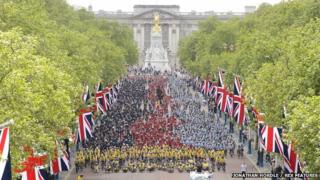 Wounded veterans and service personnel have led about 1,300 cyclists on a 10-mile ride into central London for the armed forces charity Help for Heroes.
The Hero Ride follows a week of fundraising, which started in Paris and was planned before the death of Drummer Lee Rigby in Woolwich on 22 May.
Many of those who cycled through France are war veterans.
Riders from across the country headed to Blackheath before setting off to the finish line at Horse Guards Parade.
The 300 cyclists who set off from Paris on Tuesday included many British, US and Canadian servicemen and women.
They have cycled more than 350 miles, including passing through various battlefield sites of the two world wars.
Help for Heroes co-founder Bryn Parry, speaking about the impact of Drummer Rigby's death, said: "We've done a bike ride every year since we started in 2007.
"But the poignancy of Lee's death, the fact he was wearing one of our shirts, the number of people who have volunteered to support us - it's brought it home to people to have a death on our own streets."
Tour de France cyclist Mark Cavendish, who is a patron for the charity, said the riders had been encouraged by people along the route.
"The amount of support there was out on the roads, not just people riding their bikes today but the amount of cars that stopped and people clapping, people beeping - you can see just what it means to people in this country now, and it's beautiful to see."
'Biggest smiles'
Singer James Blunt, who served in the Army for six years, said he was honoured to take part in the 10 mile ride.
He said: "For me, the incredible sight at the front are all our soldiers who have been injured, who have lost limbs, there are guys who have lost one leg, double amputees, some with both legs missing and an arm missing and still here, on hand-bikes even.
"Some have come from Paris or from Edinburgh, and they're the fittest and the strongest amongst us.
"And I think I'm totally inspired by them, they have the biggest smiles, they have the greatest, positive outlook on life.
"They have, of course, had great support from Help for Heroes which itself has had amazing support from Joe Public out there, who have said, 'come on we want to get behind and say thank you to these guys'."