River Thames swimmers 'risk gastrointestinal illness'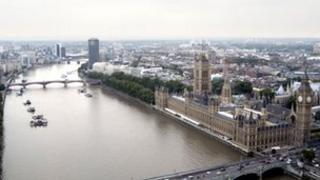 Swimming in the River Thames can carry a risk of gastrointestinal illness, according to a new report.
Public Health England investigated an outbreak of illness among participants in the Hampton Court Swim last year.
More than 700 people were surveyed after the race in October, of whom 338 reported symptoms including diarrhoea, stomach cramps and vomiting.
Researchers said poor hygiene and swallowing river water could have been to blame.
Hygiene precautions
More than 1,000 people took part in the event on the stretch of river between Hampton Court in Surrey and Kingston Bridge in west London.
Researchers found no single cause of illness could be identified among the swimmers, but said it was likely that many had swallowed river water.
The report also suggested that participants may have become ill after not taking hygiene precautions when handling their wetsuits after swimming.
Victoria Hall, lead author of the report, said: "While we are not recommending that people stop wearing wetsuits, sensible precautions to reduce the chances of infection, such as cleaning wetsuits thoroughly after swimming, should be considered."
The report found previous experience of swimming in an open water event in a river in the last two years and being over 40 reduced the risk of contracting an illness.
Investigators said this could be related to their behaviours during or after swimming or enhanced immunity from previous exposure.
Event organisers Human Race, who helped produce the report, said new measures had been introduced to reduce the risk.