£1bn Royal Dock business hub deal for Newham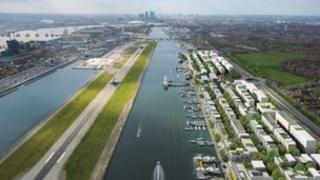 A £1bn deal to create a multi-million pound Chinese business park in London's Royal Docks has been confirmed.
Advanced Business Park (ABP), based in China, plans to turn the 35-acre site into the European headquarters for hundreds of Chinese firms.
The Mayor of London, Boris Johnson, claims 20,000 jobs will be created.
It is hoped the site will become a gateway for Asian and Chinese businesses seeking to establish headquarters in Europe.
Mr Johnson says the development will be worth £6bn to the UK economy, generating £23m in business rates annually.
Some 600,000 square feet of office space is planned.
The mayor said: "For centuries the waterways of east London were the throbbing arteries of UK trade and commerce.
'Beacon for east'
"This deal symbolises the revival of that great era, continuing the re-invention of this once maligned part of the capital into a 21st Century centre of trade and investment.
"This development will act as a beacon for eastern investors looking west, bringing with it tens of thousands of jobs and billions of pounds of investment for the UK economy."
Chairman of ABP, Xu Weiping, said: "This project will be hugely significant for both the Chinese and UK economies.
"My vision is to develop a world class international business district which will initially target Asian businesses to help them secure a destination in London."