Heathrow 'would need to close' under airport plans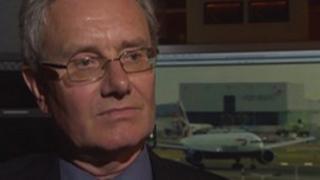 If the government decides to expand Stansted or build a new estuary airport to form the UK's major air hub, Heathrow will need to close, a transport think tank has said.
The Independent Transport Commission said a major capacity airport was needed to compete with European rivals.
It said Heathrow would have to close to give investors confidence that airlines would move their business.
Its report will be submitted to the government Airports Commission.
'Major impacts'
The commission's report, which a number of bodies - including airport protest groups and airport authorities - contributed to, concluded that one major hub was needed.
It discounted the idea of a dual airport dubbed "Heathwick", developing competing hubs across the UK or keeping the status quo at Heathrow.
Stephen Hickey, of the Independent Transport Commission, said: "Heathrow has now been overtaken by many of its competitors on mainland Europe and that will be a loss to the UK and London.
"At the moment we have the benefit of one of Europe's top hub airports.
"The risk is we are losing that capacity to Charles de Gaulle, Frankfurt [and] Schiphol and the airlines will want to use those airports."
In September, the government launched a review of how the UK might expand its airport capacity in the South East.
Options included adding a third runway at Heathrow, adding a second runway at Gatwick and building a new airport in the Thames Estuary.
'Prime location'
The report, Flying into the Future, stated: "In the event of a decision to develop a major hub airport at either location [Stansted or the Thames Estuary], we do not see how the current Heathrow could continue to operate.
"The majority of our respondents share this view."
It said it did not believe enough consideration had been given to the possible loss of jobs or the potential cost of compensating airline businesses that have invested in Heathrow.
Closing Heathrow would have "major impacts on the 114,000 people directly and indirectly employed by the airport as well as their families and the communities in which they live", it said.
But it added that releasing some 1,200 hectares (2,970 acres) of land - the size of Kensington and Chelsea - could offer "unparalleled opportunity for redevelopment for housing and other uses in a prime west London location".
Respondents to the Independent Transport Commission included residents group HACAN, Richmond Heathrow Campaign, Transport for London, and Gatwick and Heathrow airports.
The commission is funded by a range of donors, Mr Hickey said, including airlines and the Civil Aviation Authority.
The Airports Commission will make its final report to the government in the summer of 2015.