Woolwich mourns murdered soldier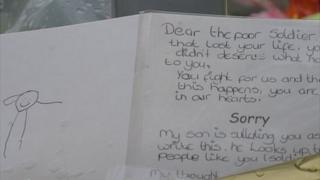 Just before 11am the iron-shod skies over Woolwich - and the unseasonable chill in the air - finally combined to produce a blast of hail, followed by driving rain.
The climatic conditions seemed apt.
For the atmosphere in south-east London on Thursday morning was tense and sombre and rather scary.
At its epicentre: a roundabout, a tent, police officers clad in blue and the scene of a truly shocking crime.
Alice Duggan, 80, said: "I don't like it. There's not a nice feeling here this morning. Everybody is very subdued."
The major roads through the area were cordoned off, leaving the local populace to find their way through the labyrinthine housing estates surrounding the site of the attack.
There they rubbed shoulders with dozens of lost reporters trying to navigate their way closer to the crime scene by the position of the helicopter overhead.
'Strange atmosphere'
Mark Bride, 35, unemployed, said: "Normally they [the media] forget Woolwich even exists.
"No-one usually gives a monkey's when people get shot or stabbed up around here - but today you can see feelings are running high.
"There is a very strange atmosphere. You could cut the tension with a knife."
More than a dozen bunches of flowers had already been left outside the Royal Artillery Barracks by midday, many put there by soldiers and their families.
One message read: "No1 can put into words how tragic this is. So sad. Brave soldier, you will forever be in my heart."
Another said: "To a hero taken from us too soon. Martin, Faye and Hope, fellow soldier + family."
'So sad'
There is no doubt the local community has a strong affinity for the military - and anger at the death is felt especially acutely because the victim was a soldier.
The word "hero" is voiced again and again.
As the BBC watched, young mother Katie Aouinti added a bouquet to the pile.
She said: " I didn't know him, but it's so sad. I wasn't able to sleep last night. Everybody loves the soldiers around here.
"Every time they go past my kids say 'look it's the Army' - they love them."
This is far from the first violent death to occur in south-east London. But it is hard to imagine another set of circumstances that would provoke this sort of response.
On the platform of Woolwich Dockyard Station complete strangers fall into discussion about the killing.
A man is seen raising a St George's flag in the garden of his new-build, terraced home.
'End of the world'
Perfectly made-up television presenters of differing nationalities stand in a line, performing.
Police officers raise blue and white tape to allow a stream of young mothers with pushchairs underneath.
The only place with any warmth on this morning, or so it seemed, was the Olympic Cafe - a stone's throw from the barracks - where saucer-eyed locals interrogated members of the world's media before reading about what had happened in their neighbourhood on the front page of The Sun.
"It's craziness," one diner said to his companion. "Total craziness."
The cafe cleared instantaneously as rumours spread of Boris Johnson's imminent arrival in the area.
Outside - still cold, scarcely believable that it was May - the grim work of collecting forensic evidence and painstakingly documenting an atrocity was continuing.
Dennis Baker, 40, a driver who lives in the neighbourhood, said: "It feels like the end of the world."
Why has this crime caused such outrage?
Perhaps one of the messages left outside the barracks says it best.
"Dear the poor soldier that lost your life, you didn't deserve what happened to you," it read.
"You fight for us and then this happens. My son is saluting as I write this.
"He looks up to people like you."