London visited by 50% of UK's tourists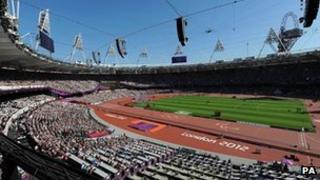 More than half of the UK's foreign tourists in 2012 visited London, figures have shown.
London had 15 million visitors but, despite hosting the Olympics and Jubilee, this was only up 1% on 2011.
Edinburgh, which had 1.25 million visitors was the second most popular UK city, followed by Manchester which had 932,000.
The overall UK total was 31 million visits. VisitBritain said it hoped to attract 40 million by 2020.
The total number of visits to London increased by nearly 4% in 2011, and more than 3% in 2010, according to figures from the Office for National Statistics.
Despite "intense competition" from other destinations, it was hoped the UK would attract a million more visitors in 2013, VisitBritain's strategy and communications director Patricia Yates said.
Tourism minister Hugh Robertson said he was "encouraged" by the rise in visitors to the UK, and confident the figures would "continue to grow".
Seaside resorts Bournemouth in Dorset and Penzance in Cornwall, and the Suffolk town of Ipswich saw increases of up to 68% in visitors, VisitBritain said.
Nearly four million French tourists crossed the Channel last year but visitors from the US were the most valuable for the UK economy, spending £2.4bn.