Hounslow, Richmond and Hillingdon residents against Heathrow expansion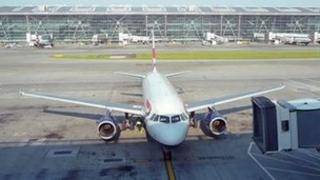 Residents in three London boroughs overwhelmingly say they are against Heathrow Airport expanding, according to council consultations.
Hounslow Council said 72% were against expansion, 94% wanted noise reduction but 62% did not want a new hub built if it meant Heathrow would close.
In Richmond and Hillingdon 71% of people objected to a third runway.
Heathrow Airport said the Hounslow consultation involved just 1.2% of the borough's population.
'Out-dated' proposal
In a statement it said: "The council has carried out a consultation on an out-dated runway proposal which is not being promoted by Heathrow.
"Its conclusions are based on the responses of just 1.2% of the borough's population - with only 0.85% voting against Heathrow."
The consultation comes as plans for a third runway are being debated.
The government has set up an aviation commission to look into the country's future airport strategy. It is not due to report until 2015.
Richmond upon Thames and Hillingdon Councils also held borough-wide ballots with joint results showing that out of 140,516 responses, 73% did not want to see any more flights in or out of the airport.
Lord True, leader of Richmond Council, said: "It is not an adequate or a safe site for a massive airport.
"The government should stop fudging till 2015, rule out this not-fit-for-purpose site and get on with delivering an expansion in a better site."
In its response, Heathrow Airport, said the results of the Hillingdon and Richmond surveys were based on responses from 30% of the boroughs' populations.
'Grasp the nettle'
It added: "Heathrow will submit outline proposals for additional capacity to the Airports Commission in July."
London Mayor Boris Johnson has proposed a four runway airport in the Thames.
However, a recent report by the House of Commons Transport Committee said this could lead to the closure of Heathrow.
The results from Hounslow were based on the first 3,000 responses to a questionnaire sent to every household, but it said the final percentages were likely to alter by 1-2%.
Councillor Colin Ellar, deputy leader of the council, said: "It's now time for Heathrow and all stakeholders to grasp the nettle and make a decision in the interests of our residents and the nation."