Support for embattled head teacher Jo Shuter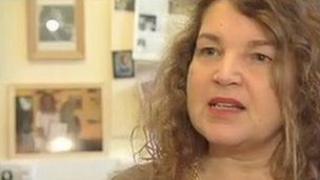 A Member of Parliament has come to the defence of an embattled London head teacher at the centre of a probe into misuse of school funds.
A Department for Education report criticised Jo Shuter, the principal of Quintin Kynaston Community Academy, St John's Wood, over extravagant spending.
Ms Shuter has been reinstated following a suspension, but is yet to return.
Now Karen Buck, MP for Westminster North, has described the head teacher as "dynamic and inspirational".
On Friday, BBC London revealed the report downgraded the school's self-assessment of its use of public funds from "good" to "inadequate".
The investigation, which looked at spending between January 2011 and August 2012, detailed numerous concerns, including:
Ms Shuter not declaring any business interests despite having close links to a number of suppliers used by the academy.
"Widespread" personal use of academy taxi accounts with an estimated £2,663 of personal travel costs identified.
At least two cases of expenses being claimed more than once from different organisations, which "could amount to fraud".
A number of issues relating to the employment of family members.
The investigation also revealed how senior staff members held off-site meetings at exclusive hotels. An overnight meeting held in January 2012 at the Grove Hotel, in Chandlers Cross, cost £8,269.
In another incident which caused the report authors concern, the academy bought chairs to the value of £1,579, which were delivered to Ms Shuter's home.
Speaking on Sunday, the Labour MP reminded the public of some of Ms Shuter's achievements at the school.
"Jo Shuter has been a dynamic and inspirational head teacher, who has helped Quintin Kynaston become the successful school it is today," she said.
"This is despite its intake being drawn from some of the most deprived neighbourhoods in London."
Ms Buck continued: "The inquiry has clearly raised a number of issues of concern around financial management.
"However, I hope lessons will be learned from this and more effective controls will be in place in future."
The BBC understands negotiations over the principal's future took place on Saturday.
The Department for Education has said decisions about the position of the head teacher are the responsibility of the school governing body.
Ms Shuter, who lives in Dollis Hill, north-west London, is not commenting.