Protesters march in London over NHS reforms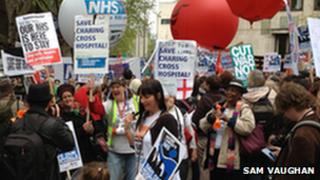 Demonstrators have marched from the South Bank to Whitehall in protest at changes to the NHS in London.
Medical staff and union members set off at 14:00 BST before delivering letters of protest to 10 Downing Street.
The campaigners are angry about A&E closures, front-line staff cuts and what they see as increased involvement of private medicine in the NHS.
The Department for Health said changes were based on "sound clinical advice" and would show a "clear benefit".
Actor Roger Lloyd Pack, a long-term Labour supporter, was involved in the march. He said: "The NHS has saved and improved countless lives since its inception in 1948.
"Now we find it is under attack as though it was the cause of all our ills when in truth it is a national treasure."
Motorcycle escort
Professor Simon Shorvon, a neurologist, attacked a decision to close four west London A&E departments.
He said: "It will leave a huge swathe of residents far from a local casualty.
"Time matters in an emergency situation and being stuck in an ambulance after a coronary or stroke or life-threatening accident will play havoc with survival and recovery rates."
Jos Bell, one of the organisers, said: "It was very memorable marching across Waterloo Bridge with a motorcycle escort.
"We hung a big 'Save the NHS' banner over the bridge.
"Hopefully we have got the message out that we are seriously concerned about the future of the NHS."
Sue Tarr, of the Royal College of Nursing, said: "London's nurses are here today because they're worried that changes are being made to the NHS to save money, rather than to improve services for patients."
'Quite a number'
A Department for Health spokeswoman said: "We have always been clear that any plans to make changes to hospital services should be based on sound clinical advice and must show a clear benefit to patients in that area.
"Local healthcare organisations, doctors, nurses and other health professionals, with their knowledge of the patients they serve, are best placed to decide what services they need for patients in their area."
Organisers had hoped 5,000 people would take part in the march.
A Metropolitan Police spokesman said they do not give estimates of demonstration sizes, but added that there were "quite a number" of protesters.
He added: "Police have been in attendance. There has not been any trouble."