London boat users 'raise river tensions'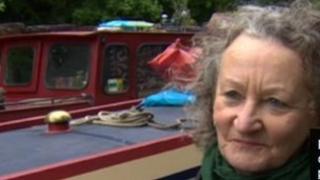 The increase in canal boat users in London is creating tension between boaters and those living near mooring sites, the London Assembly says.
Boat owner and Green Party Assembly Member Jenny Jones is investigating how waterways can be adapted to cope following complaints of increased noise and pollution from boaters.
She believes London's inflated housing costs are making house boats more attractive.
London has over 100 miles of waterways.
The assembly said "initial research shows the national population of continuous cruisers has risen sharply in the past 10 years".
The London Assembly's proposal document says many boaters are having difficulty finding the moorings they want, and some are not observing canal rules.
Other issues include staying longer than permitted periods and creating noise and smoke from stoves, engines and generators.
Ms Jones, who keeps a boat in St Pancras, north-west London, has begun asking interested parties for submissions on the issue of moorings.
'Seductive' lifestyle
Asked about what tensions she had seen, Ms Jones said: "There are boaters complaining about boaters and land residents complaining about boaters.
"It's not their fault. It's because of conditions on the canal. We really need to see how we can improve that."
She says the prospect of being able to "virtually live for free" on the river is more and more "seductive" for people as housing costs rise.
Uta Mitchell, who has a boat in Packet Boat Union, west London, chose to live on a boat but says she and her husband have found there is intolerance from people living in riverside luxury apartments.
Mrs Mitchell said she would like it if there were a "live and let live" attitude.
She disputes that river life is cheap.
"As soon as you use the word 'marina' everything triples in price."
Some boats have a home mooring for which a fee is paid to the owner of the site, but those with a continuous cruising licence are unable to stop longer than 14 days, and sometimes less.
The London Assembly says the number of boats overstaying mooring periods has gone up as the development of the river reduces the number of moorings available.