Man 'died after G4S restraint', inquest hears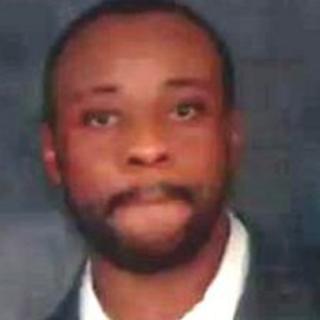 A 46-year-old Angolan man died after being restrained by G4S security guards as he was being deported, an inquest has heard.
Jimmy Mubenga became ill on a plane as it prepared to leave Heathrow Airport in October 2010. He died in hospital.
Isleworth Crown Court heard he had been restrained by three G4S security guards - Terence Hughes, Stuart Tribelnig and Colin Kaler.
The Crown Prosecution Service (CPS) previously decided against action.
Karon Monaghan QC, Assistant Deputy Coroner for Hammersmith and Fulham, told the jury that the three security guards restrained Mr Mubenga shortly after he went to the toilet.
She said: "A struggle ensued between Mr Mubenga and the three DCOs (Detention Custody Officers).
"Mr Mubenga was then restrained, handcuffed and placed in a seat.
"At some point it appears that he fell silent and unresponsive, and it became clear something was wrong."
The coroner told the jury the guards were later arrested "on suspicion of having committed criminal offences in relation to the death of Mr Mubenga" but no prosecutions were brought.
Mr Mubenga was being deported back to Angola after serving a two-year prison sentence for assault occasioning actual bodily harm.
The inquest is expected to last eight weeks.