Sarah Mulenga died after trainee paramedics' 'failings'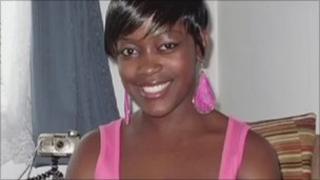 There were "serious failings in the care provided" by paramedics to a woman who died after falling ill at her east London home, an inquest has found.
Sarah Mulenga, 21, who suffered from sickle cell anaemia, became ill at her home in Barking on 9 January 2011.
Walthamstow Coroner's Court heard she died after two trainee London Ambulance Service (LAS) paramedics did not carry out "basic checks".
An LAS spokeswoman said: "We are extremely sorry."
The coroner's verdict found the two trainee paramedics had refused to take her to hospital.
'Natural causes'
Other paramedics had to be called, who took her to hospital, where she died.
Although Ms Mulenga's death was as a result of "natural causes", it was "contributed to by this neglect", the coroner's report said.
Ms Mulenga's family's solicitor Caron Heyes said: "This is as bad as it gets because a young girl died because two paramedics, who were trainees, who had failed their previous exams, went out and failed to carry out a basic set of observations."
LAS's Assistant Director of Operations Katy Millard said: "We are extremely sorry that the standard of care Sarah received by the first ambulance crew was well below what we expect from our staff.
"Despite their qualifications and experience, the crew did not act in accordance with their training and our procedures and are no longer working for the service.
"Their actions are not reflective of the hundreds of caring and compassionate medics who provide a high level of service to our patients every day."