Chinese business park could be built on historic docks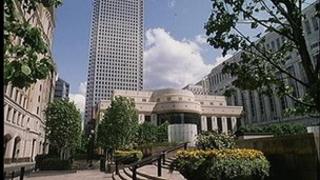 Plans to create a multi-million pound Chinese business park in London's Royal Docks have been revealed as the preferred option to redevelop part of the historic area.
Advanced Business Park, based in China, have drawn up plans to turn the 35-acre site into the European headquarters for hundreds of Chinese firms.
The Greater London Authority, which owns the site, said The Royal Docks has £22bn worth of development potential.
Work could start within 18 months.
The Royal Docks is a stretch of land in east London running from Stratford down the River Lea to the Thames, and is already home to the ExCeL exhibition and convention centre and London City Airport.
Untested area
A source close to the project told BBC London Online that ABP was the preferred bidder for the development of the site and a multi-million pound agreement could be signed as soon as the end of May with workers on site in the next 12-18 months.
He said the plans were still subject to approval by Newham Council.
"For a Chinese developer to invest so much in such an untested area for business is quite unusual," he added.
He described the development as a "mini Canary Wharf" occupying 3m sq ft of office space. In comparison Canary Wharf occupies 15m sq ft of office space.
Floating village
In March a floating village on the River Thames was announced as part of plans to transform the Royal Docks.
A spokeswoman for the Mayor of London said: "The mayor and his team have been in discussions with ABP of China about their proposals for the Royal Docks as part of a regulated procurement process that is due to conclude shortly."
The Greater London Authority, which is being advised by Deloitte Real Estate, said on its website the regeneration project will "make use of the docks' main feature - the water - in a floating commercial and leisure development".
The Royal Docks, which include the Royal Victoria, Royal Albert and King George V docks, were the last group of docks to be built in London between 1855 and 1921 and were the last to close in 1981.
By the mid 19th Century thousands of coastal sailing ships were entering the port each year bringing an enormous range of goods to the capital.