Harrow Council left with no party in control amid racism row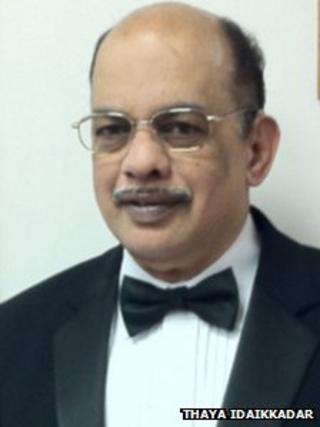 Nine councillors have split from the Labour party in Harrow, north-west London, amid racism claims, leaving the council with no party in control.
The leader of the newly formed Independent Labour Group, Thaya Idaikkadar, cited unfairness and "elements of racism" behind the split.
Labour group leader David Perry said it was a "gross distortion" and challenged all accusations of racism.
A spokeswoman said Harrow Council awaited details of a new cabinet.
Mr Idaikkadar said the decision was made on Monday for nine councillors to leave the Labour party.
That left Labour with as many councillors as the Conservatives.
It followed the election of Mr Perry as leader of the Labour group which Mr Idaikkadar said was an unfair challenge to his position as leader of the council.
'Proven track record'
Mr Idaikkadar, who claimed to be Britain's first Sri Lankan council leader, had led the council for five months, and said he was expected to stand down which he has refused to do.
Mr Perry said the constitutional process meant Mr Idaikkadar, who replaced the former leader after he resigned, was only due to be in place until the next annual council meeting, when a new election would take place.
The majority of the councillors who have formed the Independent Labour Group are Asian, Mr Idaikkadar confirmed.
He said he was not given a reason for his leadership to be challenged.
"I think there are certain elements of racism," he said.
About 60% of Harrow's ethnic makeup was black and minority ethnic (BME) but that of 34 Labour councillors "only" 17 were BME and the previous cabinet had "only" two BME members, Mr Idaikkadar said.
Mr Perry said: "The Labour party in Harrow have a proven track record of tens of years of representing the diverse communities in Harrow.
"In politics, personalities don't always get on, but we categorically deny and would challenge accusations of racism."
'Fluid situation'
Mr Perry said the Labour party had not sanctioned any independent group and Labour councillors had "no intention" of running the council with the splinter group.
"Party politics will not get in the way of our duty to serve residents," he added.
Conservative councillor Susan Hall said it was a "fluid" situation and her party was working to "steady the ship".
On Friday, Labour claimed one councillor - Raj Ray - had in fact not agreed to join the Independent Labour Party.
The Independent Labour Party claimed it had gained a new member in Labour's William Stoodley.
A Harrow Council spokeswoman said: "The council leader Thaya Idaikkadar has dismissed the current cabinet and we await details of our new cabinet members."