London 'could drink treated sewage' - Thames Water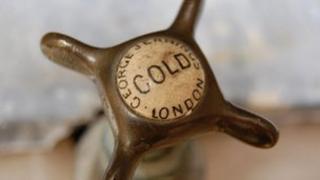 Recycled toilet waste could be introduced to London's tap water, under plans being considered by Thames Water.
The company has launched a consultation on the idea of drinking sewage water which has been treated, put back in the Thames and retreated.
A strategy document said the technique was "common practice" across the world.
But many Londoners told the BBC they were unhappy at the idea of drinking waste water including from dishwashers, washing machines, baths and toilets.
One said: "I think chemically treated sewage is a step too far.
"It's definitely not something I would drink."
Another added: "I don't think it sounds like a viable option. It wouldn't be my first choice."
London is facing a growing water shortage as the population moves towards ten million.
Thames Water says unless action is taken, the deficit will be about 125 million litres per day by 2015.
The company has already set up a test plant in Enfield, north London, which is experimenting with the recycling method.
A Thames Water spokesman said: "This waste water re-use we are asking for our customers views on is not something we are planning to implement any time soon.
"This is something we see as a longer-term measure and if implemented at all it would be in 2025.
"We are putting this on the table now and saying, 'what do you think folks'?"
He added that with towns such as Oxford upstream from London there was "a degree of waste water recycling going on now".