Trafalgar Square blue French cockerel plinth plan approved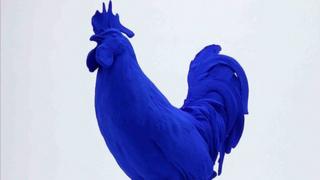 Plans to display a giant blue French cockerel in London's Trafalgar Square have been approved by Westminster Council.
Conservation group the Thorney Island Society wrote to Westminster Council branding the bird "a feeble distraction".
But the council approved plans last night, saying it "will bring colour to Trafalgar Square".
Katharina Fritch's 14ft (4.3m) sculpture is due to go up on 20 June.
'Sacre Bleu'
Called Hahn, the ultramarine blue cockerel will replace the sculpture of a boy on a rocking horse and is expected to be on display until 20 February 2015.
Submitting her work to the Fourth Plinth Commissioning Group, German artist Ms Fritch said it was designed to symbolise regeneration, awakening and strength.
Calling for the planning application to be rejected, Thorney Island Society chairwoman June Stubbs wrote to Westminster Council to say the fibreglass bird would be "totally inappropriate, however fanciful and dramatic it might appear to be".
Westminster Council's planning and development chairman Alastair Moss said: "Some have cried 'Sacre Bleu' at the idea of the French national emblem sharing the same space as Admiral Lord Nelson.
"But I think art is supposed to cause debate and discussion and the electric blue cockerel will bring colour to Trafalgar Square."
Many leading artists have bid to have their work displayed on the fourth plinth.
The first was Mark Wallinger's Ecce Homo in 1999. Others have included Alison Lapper Pregnant and Antony Gormley's One & Other, where members of the public performed on the plinth for an hour at a time.