Philip Goodeve-Docker: Greenland ice trek death funds rise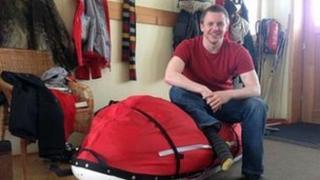 A London man who died during a 400-mile trek across Greenland's ice sheet has raised more than £12,000 for charity.
Philip Goodeve-Docker, 31, of Ealing, west London, was on the expedition with two friends, when they were caught in a severe snowstorm on 28 April.
He was raising money for the Queen's Nursing Institute which said it would "create an enduring memorial" to him.
In tributes, family said: "This expedition was the fulfilment of his dream."
He had set out on the trek with Andy Norman and Roan Hackney.
'Nutty adventurer'
News of his death saw his fundraising increase from £3,700 to more than £12,000.
Mr Goodeve-Docker had dedicated the trip to his "nutty adventurer grandfather", Patrick Pirie-Gordon, who had been treasurer and honorary vice-president of the Royal Geographical Society, which helps fund polar exploration.
He was also treasurer of the Queen's Nursing Institute.
Mr Goodeve-Docker's brother Mark said: "Two years ago, when Patrick Pirie-Gordon departed this world, we discovered many things that we did not know... [including] the naming of a glacier after grandfather; aptly named The Gordon Glacier.
"He inherited the picture of this glacier which was framed, with pride, in his flat.
"The picture was always the first thing that anybody visiting got a lesson about and the increased pride that he held for his grandfather just grew exponentially.
"This was his salute to his grandfather."