Met Police pay libel damages to riots 'Good Samaritan'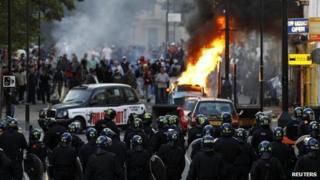 The Metropolitan Police is to pay substantial damages to a man who was wrongly pictured in "wanted" posters following the London riots in 2011.
Leslie Austin, 49, was in fact a housing officer who helped a number of people during the disorder in Hackney on 8 August, the High Court heard.
His image was issued by the police in May last year and the Met did not remove it when he complained.
It has apologised and acknowledged Mr Austin was not involved in the rioting.
The High Court hearing was told Mr Austin had helped an elderly woman to get home, assisted a bus driver caught in the rioting and assisted people trapped in a building next to a burning car.
'Helpful citizen'
His image was used in a poster showing people involved in the riots and was published in a local newspaper.
When he complained to Hackney Police on 1 June, officers "fully accepted" he had not been involved in the disturbances and that he had not committed any offence.
However, the posters remained on the police website for another fortnight and in shop windows for a further two months.
The Met has acknowledged Mr Austin was "not involved in any way in the rioting there, other than as a helpful citizen" and has agreed to pay the undisclosed the damages.
When he put in his claim in February this year he was seeking up to £50,000.
Mr Austin told BBC London: "It's been a nightmare ever since I first became aware my image was on the poster.
"In all walks of life people make errors. But it was a very serious one and they were given the opportunity to remove it without me taking legal action - but did not do so.
"Now I just want to get on with my life."
Solicitor Tamsin Allen, who represented Mr Austin, said: "This is an embarrassing climbdown for the police.
"Even after accepting that Mr Austin was a Good Samaritan on the night of the riots, these damaging posters continued to appear in Hackney shops and online.
"However, Mr Austin is pleased that this matter has finally been resolved and his reputation has been vindicated."
A spokesman for the Met said: "As soon as we were made aware that Mr Austin had not been involved in the disorder, but had in fact been trying to assist those caught up in it, we took steps to remove all of these posters and images from circulation, though we did not do so effectively enough - we have apologised to Mr Austin."