Occupy London activist cleared of rape at St Paul's camp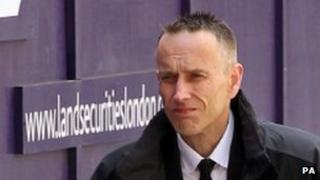 A former self-appointed leader of the computer hacking group Anonymous UK has been cleared of raping a woman at an Occupy London camp.
Malcolm Blackman, 46, was alleged to have attacked the woman in January 2012, in a tent at the camp set up outside St Paul's Cathedral.
But jurors at the Old Bailey found Mr Blackman, from Weston-super-Mare, not guilty of two counts of rape.
Protesters were eventually forced to end their occupation by court action.
The camp was set up in October 2011 and protesters and their tents were finally removed from the site in February last year.
'No evidence'
The claimant had told the court she woke up to find Mr Blackman raping her and days later he forced her to perform a sex act.
But the defendant said he was at a different protest venue at the time of the alleged rape.
Outside court, Mr Blackman said he did not think the case should have been brought.
"There was never any evidence of a crime," he said.
Mr Blackman was said to be a founding member of the activist group and frequently spoke to the public and the media during the protest at St Paul's.
However, outside court he said he would no longer work with the activist group.