Blue cockerel 'inappropriate' for Trafalgar Square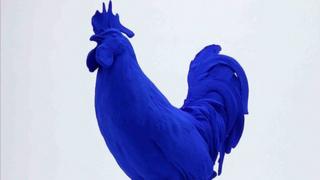 A giant blue cockerel would be "inappropriate" for the fourth plinth in Trafalgar Square, a conservation group has said.
Katharina Fritch's 14ft (4.3m) work is due to go up on 20 June - subject to approval by council planners.
But conservationists the Thorney Island Society have written to Westminster Council branding the bird as "a feeble distraction".
The council said it would "cause a stir" but was "worthy for display".
Called Hahn, the cockerel in ultramarine blue will replace the sculpture of a boy on a rocking horse and is expected to be on display until 20 February 2015.
Submitting her work to the Fourth Plinth Commissioning Group, German artist Ms Fritch said it was designed to symbolise regeneration, awakening and strength.
'No logical reason'
Calling for the planning application to be rejected, the chairman of the Thorney Island Society, June Stubbs, wrote to Westminster Council saying the fibreglass bird would be "totally inappropriate, however fanciful and dramatic it might appear to be".
"A location such as Leicester Square, St James's Park, or the South Bank in the context of the Festival Hall and the QEH could be acceptable.
"We cannot see any logical reason for the proposed sculpture to be placed on the fourth plinth.
"It is unrelated to the context of Trafalgar Square and adds nothing to it but a feeble distraction."
A report by Westminster Council, which considered the application, recommended: "It is considered that the sculpture is acceptable as a temporary exhibit... any harm to heritage assets will be offset by the public benefit resulting from the Fourth Plinth Commissioning Group's project to raise public awareness and debate on modern sculpture."
Robert Davis, deputy leader of the council, said: "The fourth plinth has become a hugely popular focal point for modern art and I'm sure if this gets planning permission it will cause quite a stir, particularly because it will be placed under the gaze of Admiral Lord Nelson.
"However, I do wonder what Nelson's reaction would have been after returning home from battle only to be greeted by the French emblem standing proudly in the centre of London."
A spokesman for the Fourth Plinth Commissioning Group said the plan to install the artwork was announced two years ago.
"Katharina is a highly praised contemporary artist with an international reputation and the presence of this exciting work on the fourth plinth further underpins London's status as a world city for culture.
"The fourth plinth is hugely popular with Londoners and tourists alike and we are pleased that it continues to generate debate."
Many leading artists have bid to have their work displayed on the fourth plinth.
The first was Mark Wallinger's Ecce Homo in 1999. Others have included Alison Lapper Pregnant and Antony Gormley's One & Other, where members of the public performed on the plinth for an hour at a time.