North London school pupils stem flooding with wetlands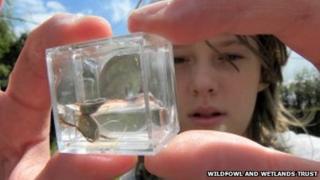 Schools in part of north London have created wetlands in a bid to limit the likelihood of flooding.
Pupils in the Barnet, Enfield and Haringey areas of the Pymmes Brook created the habitats to store rainwater and provide homes for wildlife.
It is hoped they will attract frogs, butterflies, dragonflies and birds.
The wetlands form part of a sustainable drainage system, known as a Suds, which help to reduce flooding pressure on drains and the brook.
Sue Pritchard from the Wildfowl and Wetlands Trust, which has run the project, said: "Rainwater is a key ingredient for a healthy environment, yet in London's suburbs much of it runs quickly off our roads and roofs and overloads our drains and rivers.
"The schools are doing an amazing job of creating wetlands which store and clean our rainwater, ease flooding and create vital habitat for a wonderful range of British wildlife.
The project is being implemented at 10 schools in the Pymmes Brook catchment area, which runs through Barnet, Enfield and Haringey and into the River Lee.