Central London Jubilee Line shuts for tunnel repairs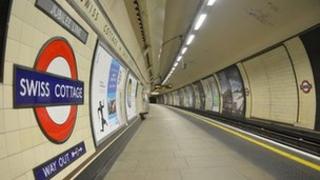 The Jubilee Line through central London is to close intermittently to allow engineers to carry out repairs.
Stations between Finchley Road and Waterloo will be affected by the work on the tunnel linings.
The closures will include the Monday of the Notting Hill Carnival and Christmas, with more closures scheduled for 2014.
The tunnels have been damaged by acidic groundwater and soil conditions, Transport for London (TfL) said.
The Rail, Maritime and Transport (RMT) union has blamed the closures on "foolhardy cuts to maintenance and staffing" while Caroline Pidgeon, leader of the Liberal Democrat London Assembly group, asked TfL to consider whether "one intensive block closure" would be less disruptive.
The line will close on two Sundays, on the Bank Holiday Monday of 26 August, the weekend of 12 and 13 October and between 25 and 30 December.
Stuart Harvey, programme director for Jubilee, Northern and Piccadilly lines, said: "This is part of ongoing maintenance and, due to the nature of the work, some closures during weekends will unfortunately be required between Finchley Road and Waterloo.
"We will be doing as much of the work as possible overnight, however in some cases we need to carry on beyond normal overnight engineering hours and normal weekend services will not be able to operate."
There could be further closures in 2015, TfL said.
Explore 'cheaper' options
RMT general secretary Bob Crow said: "The reality is that tunnels deep under London are always going to be at risk of damage and decay from a variety of sources and if it's the Jubilee Line now there is nothing to say it won't be other parts of the system tomorrow.
"Foolhardy cuts to maintenance and staffing do nothing other than increase risks and leave us facing crisis situations for want of taking preventative measures earlier on."
Ms Pidgeon said: "Instead of over 18 months of repeated weekend and holiday closures, I question whether one intensive block closure, perhaps in August, would be both cheaper and less disruptive.
"We don't want yet more closures for Jubilee Line passengers dragging on into 2015."
TfL and London Mayor Boris Johnson were criticised in 2010 when delayed upgrades and maintenance work on the Jubilee Line led to several sections being shut for about 100 weekends in total.
BBC London's transport correspondent Tom Edwards said: "Weekend closures haunted Jubilee travellers for years, but the service is now good.
"This is the jewel in the crown of the tube network - over 30 trains an hour at peak, after the upgrade. No-one will want this, but it sounds like there is no option."