Wembley Stadium celebrates 90th anniversary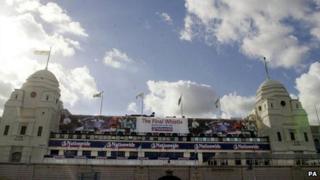 Wembley Stadium is marking its 90th anniversary with a series of events to celebrate its illustrious history.
The new Wembley stadium, which opened in 2007, was built on the site of the original north-west London stadium.
On Saturday, the FA Cup Final match ball will travel on a glass-sided truck through the capital's streets from The Oval in south London to Wembley.
Joining the celebrations will be former Tottenham Hotspur players Ricky Villa and Ossie Ardiles.
The original Wembley, which opened in 1923 and was famous for its Twin Towers, was demolished in 2003 to make way for a modern 90,000-capacity venue.
Wembley was where England won the 1966 World Cup, but over the years the stadium has proved to be more than just a football venue.
In 1985, Wembley hosted Live Aid, and since then the likes of Queen, Michael Jackson, Madonna and the Rolling Stones have all performed there.
As part of the celebrations, fans will get the chance to hold the FA Cup and have their photo taken with the FA Cup match ball.