Westfield stabbing: Yoghurt pot thrown before killing, court hears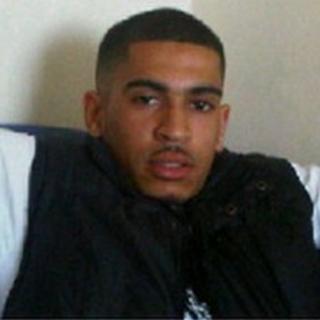 A confrontation between two gangs in an east London shopping centre led to the fatal stabbing of a 24-year-old man, a court has heard.
Liam Woodards was stabbed in the chest following an altercation at Westfield shopping centre in Stratford last June.
The two groups exchanged words and items including a yoghurt pot were thrown before Mr Woodards was stabbed, the Old Bailey was told.
Nii-Azu Kojo-Smith, 18, of Hackney Wick, east London, denies murder.
'Atmosphere of menace'
Seven others, aged between 18 and 25, deny violent disorder, while five others have pleaded guilty to various offences.
The jury was told there were a number of verbal exchanges and "an atmosphere of menace" began building as the two groups moved towards some central stalls, where Mr Woodards ended up among the rival gang.
A glass and a yoghurt pot were thrown by Mr Woodards' group, then a third item, a glass or yoghurt pot, landed on or near Mr Kojo-Smith, the court was told.
Aftab Jafferjee QC, prosecuting, said: "The deceased did not throw anything. His only crime was to have been mouthy.
"His misfortune was to be closest to Kojo-Smith who was confronting the other man just before the item landed."
The court heard that Mr Kojo-Smith produced a knife as Mr Woodards moved away and stabbed him.
As Mr Woodards lay dying, youths began fighting, throwing metal chairs and brandishing knives, the court was told.
The trial continues.