Anger at two cannabis arrests after hundreds flout law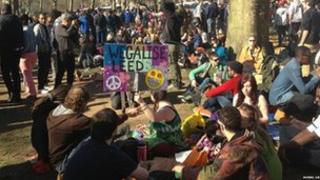 Drugs campaigners say police should have done more when hundreds of people smoked cannabis in central London on Saturday and only two were arrested.
People gathered in Hyde Park in a protest over drugs laws organised by London Cannabis Club.
Police said 14 cannabis warnings were issued and three arrests made - two for possession of cannabis and one for robbery, in Hyde Park on Saturday.
Campaigner Mary Brett said it made her "very, very angry".
'Huge success'
The police said "far more" than 200 people had attended.
The organisers, arguing against the criminalisation of cannabis smoking, put the figure at "over 10,000".
A tweet from London Cannabis Club, called the event a "huge success".
It said: "No problems or arrests, the police left us alone."
Supt Jon Morgan, Westminster and Royal Parks, said extra officers had been put in place.
He said it was difficult to tell who was there to mark the event and who was just enjoying the sunshine.
He added: "Regardless of their reason for being in the park, anyone seen by officers openly smoking cannabis in Hyde Park or elsewhere in Westminster would be dealt with in the same way, either by means of a cannabis warning or an arrest."
'Horrific drug'
Mary Brett, a retired teacher, who set up the charity Cannabis, Skunk, Sense, told BBC London 94.9 the police should have taken it far more seriously.
She added: "The trouble with cannabis is people still don't appreciate how dangerous it is.
"The last potency study in 2008 showed that skunk was 80% of the market so about 80% of these kids were probably smoking skunk.
"It's a horrific drug, completely different to the one around in the sixties and seventies."
Ten years ago organisers claimed up to 20,000 people attended a similar rally in Brixton, south London. Similar events have taken place each year.
The reclassification of cannabis from a Class C to Class B drug came into force in January 2009.
The maximum prison term for possessing cannabis rose from two to five years.