City workers take on charity trek to North Pole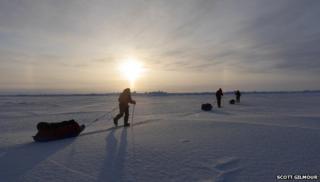 In recent years, the reputation of those that work in the finance industry has suffered a blow.
But one finance worker has taken an unusual step to change perceptions of the industry.
Matthew Deeprose, 41, used annual leave from his job as a sales director at Dominium Fund Management to trek across the North Pole to raise funds for two armed forces charities.
He said: "Both my father and grandfather in particular saw battle and so I am well versed in the sacrifices made by our armed forces.
Damaged reputation
"It is all too easy to discount what takes place so far away from home, but we should all be thankful for what our brave men and women are doing day in day out."
Mr Deeprose was one member of a four-man team called City Endeavour which walked 180 miles (300km) in temperatures below -30C (-22F) to reach the North Pole on 11 April.
The team was made up of the CEO of RJL, Simon Kiley, 53, Newall Hunter, 48, an IT security consultant and officer in the Territorial Army, as well as Philip Hayday-Brown, 42, an arctic trainer and guide.
Mr Deeprose said: "If people see I work in an investment house it's very easy to associate us with big banks who have not done things the right way and damaged the reputation of the whole financial industry and the City of London.
"There's lots to be said for explaining and making people understand what we do and we are as conscientious as others who want to support the incredible jobs our brave boys and girls do in Afghanistan."
The team have so far raised £5,149 for Walking with the Wounded, a charity which re-trains and re-educates wounded servicemen and women for life after the armed forces.
Money will also go to Mission Motorsport which provides opportunities through motorsport to help with recovery and rehabilitation especially those coming through Headley Court and Tedworth House.
The group completed the trek last Thursday in eight days, seven hours and 30 minutes. It normally takes between 18 and 20 days.
Mr Deeprose said it was the uncertainty of the environment that was the biggest challenge.
'Very scary'
"I often asked why are we here? What are we here for? I've got a wife and five children so I did think why am I doing this," he said.
"This walk and the preparation may have a huge short term impact on my life and that of my family, but compared to others, it is irrelevant."
The route saw the group and their guide, Miroslav Jakes, trek across large parts of thin ice; in some areas it was only 1cm thick, which caused a couple of them to fall in before quickly being lifted out.
There was also the polar bear tracks to keep an eye out for.
"When it's only the length of your skis stopping you from falling into nothingness...it's very scary," said Mr Deeprose.
To complete the challenge the men also had to be physically fit.
For Mr Deeprose, his training meant 04:00 BST starts so that he could do two hours of exercise which could involve long runs and dragging tyres before getting the train from his home in Cambridge to his work in the City.
He would then go for a walk when he got home before going to bed at nine.
But he is already setting his sites on another challenge and the other side of the world, the South Pole, for his next challenge.