Dr Katharine Giles cycle death: Tribute to UCL scientist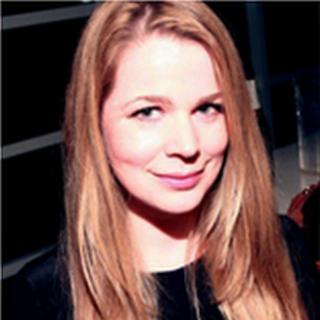 A cyclist killed in a crash in central London was a talented scientist and lecturer doing research on global warming, her employer has said.
Dr Katharine Giles was cycling to work at University College London (UCL) when she was involved in a collision with a tipper truck in Victoria on Monday.
She had travelled to the Arctic and the Antarctic to study the sea ice.
Dr Giles had a "bright future" and was "ready to provide the next generation of leadership" in the field, UCL said.
She was the second cyclist to be killed in the capital this year.
A statement from Dr Giles's family said: "Katharine was a talented scientist responsible for groundbreaking work on global warming.
"Her family are very grateful for all the support and appreciation shown to them over this tragic loss."
'Outrageous unfairness'
Dr Giles had taken on new commitments at the Centre for Polar Observation and Modelling at UCL following the accidental death of her colleague Seymour Laxon earlier this year.
A statement from the head of the earth sciences department, Prof Phil Meredith, said: "Coming so soon after the accidental death of Katharine's own closest colleague, Seymour Laxon, we are all left with a sense of the outrageous unfairness with which some of our best colleagues have been taken from us.
"Katharine had a bright future ahead of her. She graduated with a first-class degree in earth and space sciences from UCL, studied under Seymour for her PhD, and went on to forge her own career as a research fellow and most recently as a university lecturer.
"We greatly admired the bravery and sense of purpose with which she took on the many commitments in CPOM following Seymour's demise, and it was clear that she was ready to provide the next generation of leadership in that field.
"This makes it all the more difficult for us to accept that Katharine won't now have the opportunity to reach the heights she was sure to achieve."
The crash happened during the Monday morning rush hour at the junction between Victoria Street and Palace Street.