Thefts by people on bikes triple in London in two years
By Noel Titheradge
BBC London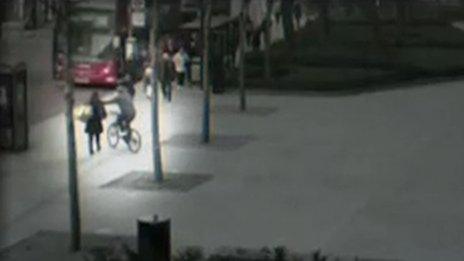 The number of thefts carried out on bicycles has tripled in the past two years, BBC London has learned.
Metropolitan Police figures show there were 3,754 reported snatchings in the capital last year, up from 1,214 thefts in 2010.
The figures, released in a Freedom of Information (FoI) request, relate to the number of reported crimes where the thief was riding a bicycle.
Det Ch Insp Bob Mahoney, head of the National Mobile Phone Crime Unit, said the increased use of smartphones by pedestrians texting or using the internet while walking had made them targets for thieves able to escape quickly on bikes.
He said: "If somebody's on a pushbike riding down the pavement or the road and they see someone with a mobile phone or a handbag, they can quickly snatch it and then get away very, very quickly.
"They can go down alleyways, they can go in between tower blocks, it's a very quick way of getting away from the scene of the crime."
The FOI also revealed the number of thefts carried out on mopeds rose by more than 80% in the second half of 2012, compared to the year before.
There were 394 reported crimes from July to the end of December, up from 213 thefts over that period in 2011.
Primary school teacher Emily Mottram, 28, had just stepped off a bus in Islington, north London, when her phone was snatched out of her hands by a cyclist riding on the pavement.
She said: "It was dark, there was no-one around that I knew. I just thought what would have happened if it had been even later and I wasn't stepping off a bus?"
She said the incident had made her more aware of the threat.
"If someone's coming close to me I'm instantly quite nervous and I never used to really have that awareness.
"Maybe it's a good thing, I'm a lot more aware of what's going on around me but it's also made me feel concerned about having any possessions."
Rachel Griffin, director of the personal safety charity the Suzy Lamplugh Trust, said the increased number of bike lanes alongside pavements had made people vulnerable to the threat of cycle thieves.
She said: "Increasingly footpaths are being shared with bike lanes, so it's important to be aware that when you're walking along, you might be on the pavement, but there could be a bicycle either coming up towards you or behind you.
"We advise people in a shared space with a bike lane to hold their valuables, or their bag in particular, on the opposite side to that which the bicycles are on".
Related Internet Links
The BBC is not responsible for the content of external sites.