London Olympic Park opens for visitor tours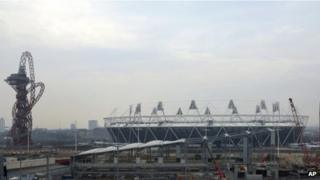 The London Olympic Park has reopened to visitors, starting this Easter weekend.
So far, 20,000 tickets have been sold to people wanting to see the site in Stratford, east London, where the Games took place last summer.
The Park in Progress Tours will run on weekends and during the school holidays from 29 March to 23 June.
Visitors will have to wear hard-hats as the venue is a construction site still undergoing a £550m transformation.
Once completed it will reopen as the Queen Elizabeth Olympic Park, complete with housing, businesses, parklands and venues to stage sporting, entertainment and community events.
With much of the site under construction or stripped down, the visit involves a bird's-eye view from the ArcelorMittal Orbit tower which stands next to the Olympic Stadium.
The stadium, velodrome and Copper Box venues are still on the park and getting ready for new uses, but the hockey and basketball arenas plus the world's biggest McDonald's are gone.
Mr Tudor said: "So many people want to see the park and to know why it is changing because they loved it so much when they were last here.
"Of course, when you take away the toilets, shops, the McDonald's and all the people, what you end up with is concrete.
"Part of the chance to visit is for people to understand that new things are coming but that it looks like this at the moment."
Trees and shrubs are to be put in to make it into a greener space, ahead of the concerts and track events in the summer to help mark the first anniversary of the Games on 27 July.