East London Mosque opens doors to non-Muslims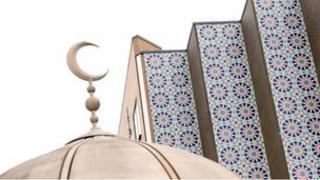 The East London Mosque is opening its doors to non-Muslims in an attempt to promote a better understanding of Islam and what goes on inside the building.
Members of the local community are invited to take a look inside the mosque, observe prayers and ask questions about the religion, however challenging.
There will be an exhibition about the way of life for Muslims in the UK, as well as information about culture and history.
Dilowar Khan, executive director of the mosque, said there was plenty of work to be done to improve its reputation locally.
"There is more pressure on us as an institution because our mosque has come under a lot of pressure. It's been criticised as being a hub for extremists," he said.
'Muslim patrol'
Earlier this year a video appeared online showing men shouting homophobic abuse at another man in east London, telling him to "get out of here" as "it is a Muslim area".
East London Mosque condemned the actions of the self-styled 'Muslim patrol'.
Mr Khan said: "We felt like because this was an issue right on our doorstep we had to speak out about that one."
He said that they had opened the mosque up to visitors on more than one occasion before but that they were now getting much more organised about getting people through the door.
"It's very important we reach out to our neighbours who see the mosque every day but don't feel that they can come in. We do get visitors regularly but there are still so many people who live nearby and don't know what is inside."
According to the 2011 census, there are now 2.7 million Muslims in England and Wales (4.8% of the population).
Tower Hamlets, the borough in which the East London Mosque is located, is the local authority with the highest population of Muslims, while neighbouring borough Newham has the second largest.
Event organiser Shaju Khan says that they have fielded many requests from visitors to the mosque in Whitechapel and they have imams on hand for complex theological questions.
What is Islam?
"Some people want to ask simple questions like whether as non-Muslims they're allowed to come in the mosque. Others make pretty broad requests like 'what is Islam?'," said Shaju Khan.
"We do have people who ask difficult questions. They may have read about Islam in the media and so they'll ask what Jihad is, which we tell them is simply a struggle. They have asked about the issue of women wearing the niqab."
Dilowar Khan said that an increasing number of mosques were holding similar events.
"There is still a lot of ignorance out there with groups like the English Defence League wanting to vilify mosques saying they are full of fundamentalists who don't want to engage with mainstream society.
"We have to play a part in changing that view."
You can hear more on this story on BBC Asian Network on Saturday 30 March.