Fortnum and Mason protesters lose conviction appeal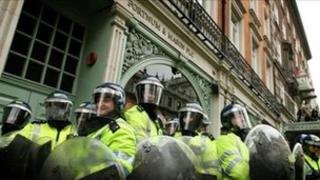 Ten protesters who held a sit-in demonstration at Fortnum and Mason's flagship store in London have lost an appeal against their conviction.
The demonstrators were convicted of aggravated trespass for occupying the Piccadilly store in March 2011.
In upholding the conviction Lord Justice Moses said the protesters "had the intention to intimidate".
Up to 130 people occupied the store during a wider demonstration organised by campaign group UK Uncut.
Thousands of people took part in the protest against spending cuts in London.
It was during this demonstration that a breakaway group targeted Fortnum and Mason believing it to be "guilty of tax avoidance", Westminster Magistrates' Court heard during the trial in 2011.
The occupation lasted for more than two hours during which drums were beaten, horns sounded and bagpipes played, while protesters hung banners.
Some goods were damaged or stolen and customers, who were taken by surprise by the occupation, were left feeling intimidated, the court was told.
Ruling on the appeal Lord Justice Moses and Mr Justice Kenneth Parker said that each of the 10 was guilty of aggravated trespass.
"They were guilty because they themselves had the intention to intimidate, and because they had committed the conduct element of that offence," said Lord Justice Moses.