Cycling deaths in London: Campaigners in lorry redesign call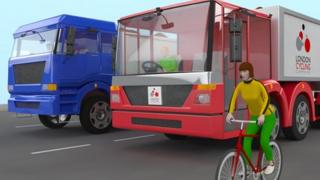 Campaigners are urging construction firms to adopt a new design for lorries which they say could cut the number of cycling deaths on London roads.
London Cycling Campaign said its Safer Urban Lorry's lower driving position and high-visibility glass panels would enable drivers to spot cyclists sooner.
The new lorry is based on the design and technology found in refuse trucks.
A Freight Transport Association (FTA) spokesman said: "It's great to see new ideas and suggestions."
Between 2010 and 2012, 40 cyclists were killed and there has been one fatality this year, Transport for London said.
The group said lorries were involved in half the deaths in Greater London, even though the vehicles only make up about 5% of all traffic.
Increased visibility
The Safer Urban Lorry design features a lower seating position for drivers - 60cm lower than conventional lorries - and a larger windscreen and side windows, to improve the view of their surroundings.
The new design also features a lower bumper clearance and side-guards, which would increase the chances of a cyclist involved in a collision being pushed to the side rather than being dragged under the vehicle.
Campaigners also want to see early warning cameras, which provide a 360-degree view around the vehicle, to be installed in trucks.
Charlie Lloyd, from London Cycling Campaign, who is a former lorry driver, said: "Our Safer Urban Lorry design is a challenge to the construction industry to use vehicles that help reduce the terrible number of people on bikes and on foot who are killed by lorries.
"The restricted view from the cab of many of today's construction lorries means the driver often has little or no idea who or what is in their immediate vicinity, which is totally unacceptable."
The group said the new design would not affect the amount of load carried by the lorries and the lower cabs would encourage safer driving.
The FTA's Christopher Snelling said: "We believe that the overall safety record of logistics across the UK is excellent; however it is crucial that we look at new innovations.
"We believe that drivers would particularly welcome increased visibility.
"However it must be remembered that there are lots of other considerations that impact on vehicle design."
In November 2012, a report by London Assembly's transport committee said the number of cycling casualties had risen by 50% between 2006 and 2011.